Streamlined Access to APIs in Africa
Developer-friendly APIs designed exceptionally to tap into financial services in African Markets.
Why Choose Quikk
Top Technology companies use Quikk to power their infrastructure. Discover why they trust us to manage their APIs and Integrations
All in One Experience
Facilitate tech enablers with tool for building digital products for Africa
---
---
Streamlined API Onboarding
Go live with multiple providers, from KYB to API Key in a matter of days not months.
---
---
X-ray vision
Gain visibility into API usage for troubleshooting, reporting and analytics.
---
---
Powerful Add-ons
API add-ons that extend API functionality to get the scale you need from start to IPO
---
---
Top notch 1st line support
We make interaction, engaging and delivering support when building API integrations simple.
---
Exceptional API design
APIs that bring, security, simplicity and standardisation to complex API labyrinths
How it works
Find and access provider APIs 5 times faster
Excellent support for Businesses and developers
Connect to 200+ Digital Enablers on infrastructure that is Secure and Compliant
App Features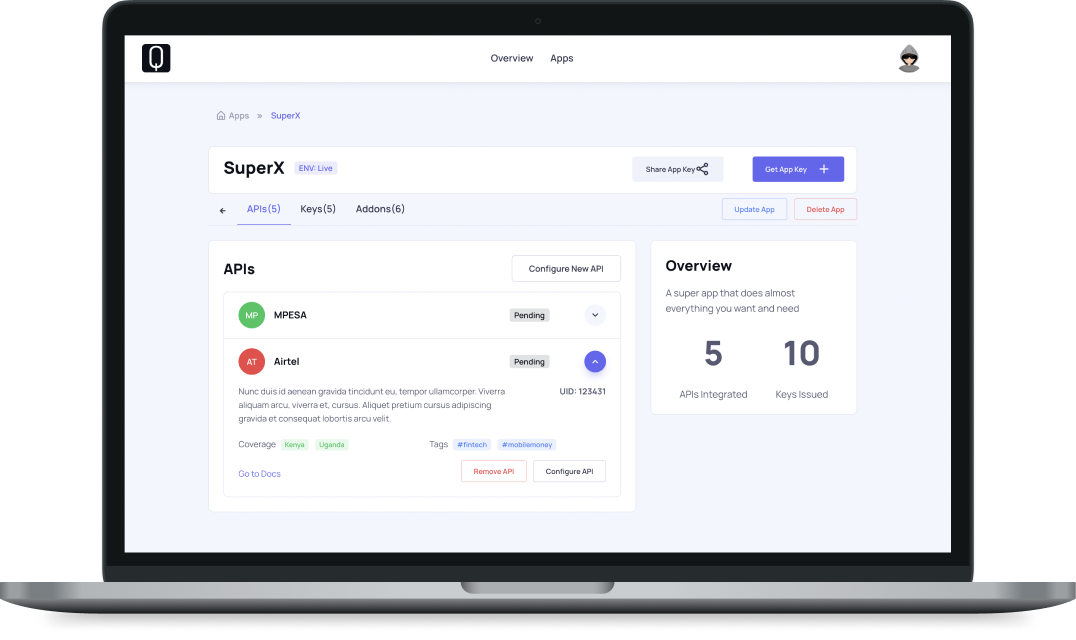 Developer Management
Securely share your integrations with your developers. No key sharing. Track API key usage.
Peace of Mind
99.9% API High availability with API Provider status monitoring and uptime alerts.
Plug n Play Compliance
APIs comply to customer data protection regulations. Zero developer implementation required.
Bank Grade Security
HTTP/2 encryption, HMAC authentication and secure key hashing, 2FA and more.
Fraud Mitigation
Prevent internal and external fraud through ML powered algorithms and API guards.
Build with Confidence
Testing environments as solid as prod with clean docs to help you build with confidence.
What Our
Clients Say
About Us: